Do It Up Dave!
First day of USA's finished yesterday and it looks like it was a pretty exciting competition, especially with my teammate, Dave, landing his Yurchenko Double Pike!  Solid!  At the halfway point, Dave is sitting in 2nd.  Am I surprised?  Not really, considering we've competed side by side for many years and I know the way he is in competitions.  He's able to turn up the intensity like a light switch.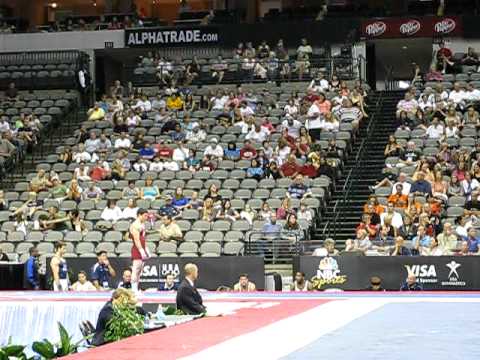 As many of you probably know already, tomorrow will be Dave's last competition ever.  When I tore my ACL in Japan a few weeks ago, I don't know what made me more sad: the fact that I wasn't going to be doing gymnastics for a while, or the fact that I wasn't going to be able to compete with Dave for his last meet.  We've known each other for a long time and have competed for Stanford since day one, so both us were looking forward to competing together at this year's USAs.  Although we were both bummed, I'm happy to know that he's out there competing hard and kicking butt.  Better yet, it's awesome that he's competing this week with my logo on his chest.  For some reason, even though I'm in California right now, I feel like I'm Dallas for the competition.
Dave is my best friend and definitely the best training partner I've ever had.  It'll be sad to see him go but I've gotta say that I admire him because it takes a lot of guts to hang up your grips when the sport has been a big part of your life for so long.  I'm also happy that he's going out to do something that he's always wanted to do, which is to become a vet.  I'm starting to realize that the blood and sweat I pour into this sport to make the Olympics is no longer just for me, but it's for me to keep our dreams alive, as well as all the people who have supported me throughout my career.  I'm definitely very lucky to have such good people around me.
Anyway, to Dave –
Do it up! Get 'er done!