I was born in Oakland, CA on September 9, 1985. Both of my parents were former gymnasts in their native, Japan, so I guess you could say that gymnastics ran through my blood ever since I was born. However when I first started the sport, I was pretty bad at it. In fact, I was extremely uncoordinated and not all that strong (I could barely bounce on the trampoline…). Things changed though once I began training with my father. For seven years, my father and I commuted from our home in Berkeley to the Stanford gym (about an hour each way). There, my father coached me 5 hours a day, 6 days a week. My
father's training regimen was tough but by the age of twelve I became a member of the USA Junior National Team, and throughout my teenage years, I ended up winning three national all-around titles. At 16, I moved to the Olympic Training Center and began training with the hopes for making the Olympic Team in Athens. However, a major injury to my left leg the year before, and my father's sudden passing left me lost in the sport I loved most. I began to struggle with motivation, and in 2004, I was left off the team that traveled to the Olympics. After all of things happening at once, I contemplated quitting elite gymnastics, but fortunately, I was admitted to Stanford University and I ended up joining their program that same year (it was basically homecoming for me because I grew up in the Stanford gym!).
Despite the fresh start, I continued to struggle to regain the groove that I once had. I also had to deal with several major injuries during the first couple of
years of my collegiate career which slowed my progress. However, I felt that 2007 was my breakthrough year. I remade the USA National Team for the first time in three years and I also went to the World Championships as part of Team USA. Unfortunately, 2008 did not end the way I wanted it to as I fell short of making the US Olympic team. After the selection process, I took some time to figure out where I wanted to go with my career. I debated whether to continue training or to stop all together and move on with my life. Ultimately, I decided that I would stick with the sport. After all, I had one more year of collegiate eligibility left, which meant that I had another chance to win a championship with my team. Looking back, I'm glad I decided to continue since my team and I ended up capturing the NCAA team championship, which was our first in 14 years!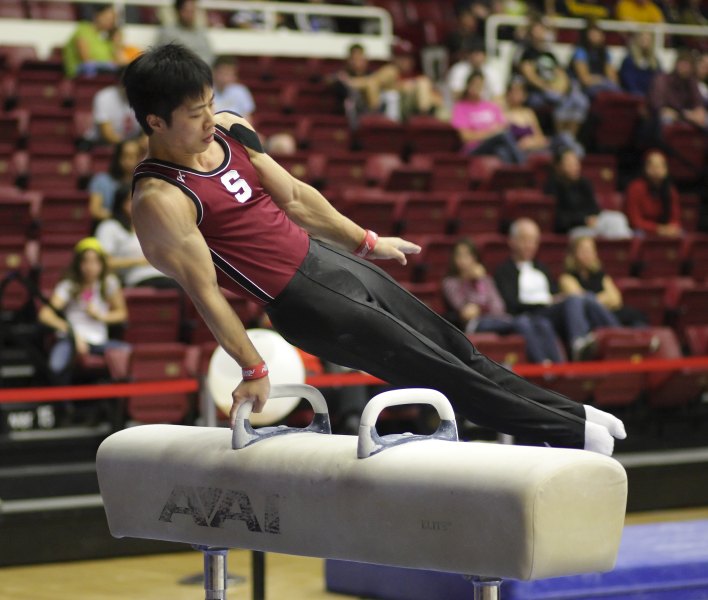 Following this final competition as a collegiate gymnast, I had to decide whether I wanted to continue to be a competitive gymnast. After taking some time to think things through, I realized that even after 15 years of being involved, I still had way too much love for the sport. I also realized that I did not want to give up just yet and still wanted to realize my goal: to compete at the Olympics! Plus, I feel that the best way for me to say "thanks" to all the people that have supported me throughout my career is to be able to tell them that "I made it!"
Since graduating from Stanford, I've started training with a former world champion and Olympic medalist from China, Jinjing Zhang, at Champions Academy in Morgan Hill. For the next 3 years until the London Olympics, I'll be using this site as a medium to reach out to my friends,supporters, and to everyone and anyone who's just plain interested in gymnastics. Please check back regularly, and follow me, follow my dreams until the next Olympics!
—————————————————————————————————————-
Getting to Know Me:
Favorite Food: Japanese
Favorite Color: Red, Black
Favorite Music: All kind (usually hip-hop and r&b)
Hobbies: Eat, Sleep, Play Video Games
Major at School: International Relations, Japanese Studies
Favorite TV Show: Sports Center, Family Guy, Japanese Variety Shows
Favorite Movie: Too may to list
Favorite City: San Francisco, Tokyo
Favorite Place in the World: My Bed
Favorite Time of the Day: Dinner time
Favorite Gymnastics Event: All
Favorite Holiday: New Years
Former Teams/Clubs: Stanford Gymnastics Club, US Olympic Training Center, Stanford University
Current Team: Champions Academy