Checked my mail today and found that I got a package from Japan.  Checked the content and realized it was a DVD full of videos and pictures from one of the Japanese coaches from when the U-21 team came to Stanford to compete (Thanks Koichi!).  Man, that was a fun time. It's been a couple of weeks since they've left but I hope they've adjusted to their lives in Japan again.  I know most of them liked the US so much that they didn't want to go back to their home country.
Speaking of the Japanese guys…while the team was made up of the best collegiate gymnasts from top universities, the coaching staff was an "all-star" cast as well.  For those of you that don't know, here's a little clip on each of them (when they were still competing).  Oh, and on a side note, I'm proud to say that all of them were at one point, my coach.  They all came to Stanford for about a year through the JOC (Japanese Olympic Committee).
Koichi Mizushima:  The first routine in this clip is of Koichi.  He was on the '88 Olympic team that won a bronze.
Yoshiaki Hatakeda: Yoshi won a bronze with his team in '92 and also competed in the Atlanta Games.  He's the current coach of World Champ: Kohei Uchimura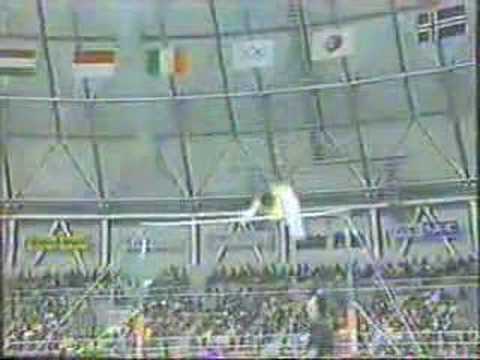 Mutsumi Harada: Mutsumi was on the 2000 team in Sydney.  He was an assistant coach to the 2004 Olympic team that won gold.  He coaches at Juntendo University in Japan with former world champ, Hiroyuki Tomita